Over the last week we saw a decent amount of sun, as well as some rain and thunderstorms. We saw some great pictures and videos of
hail
on April 29th over the area, despite a lack of thunder in small showers. The temperatures stayed pretty pleasant this month, and it looks like that trend might continue as we head into May.
As April winds down, where do we stand with respect to temperature and precipitation? Looking at the preliminary monthly climate report from NWS Memphis (below), we sit a couple degrees below normal (2.6 degrees to be exact). The precipitation total for this month is 5.57", which means we are slightly above average against our normal April amount of 5.25".
The preliminary monthly climate report from NWS Memphis.
Friday and Saturday
Overnight lows going into Friday will drop into the low 50s under clear skies. Friday high clouds will move in as a high tops out in the upper 70s, a signal of a warming trend as we head into the weekend. The wind on Friday will be out of the southwest at about 8 mph. Friday night lows will only drop to the lower 60s. Saturday temperatures will top out in the lower 80s under partly cloudy skies and with a strong southerly wind. Saturday night lows will only drop to the mid 60s with partly cloudy skies sticking with us.

Sunday and Monday
As we move into Sunday we will again be partly cloudy, having highs top out in the low 80s, capping off a warn but dry weekend. Sunday night lows will drop into the mid 60s with a slight chance of a shower. Monday will be very similar to Sunday as it will be partly cloudy and top out in the low 80s. The only difference is that on Monday there will be a slight chance of showers all day. Overnight lows heading into Tuesday will again only get down to the mid 60s as more clouds move in.

Tuesday, Wednesday, and Thursday
On Tuesday a low pressure system is forecasted to move through, bringing scattered showers and thunderstorms. Temperatures top out near 80, making way for a cold front from the low pressure system. This cold front will bring falling temperatures overnight, into the upper 50s. Moving into Wednesday the cold front will likely bring pleasant temperatures in the low 70s along with partly cloudy skies. Wednesday night lows will likely drop all the way down to the low 50s. Heading into Friday, temperatures will again be rather pleasant as we will top out around 70 under partly sunny skies.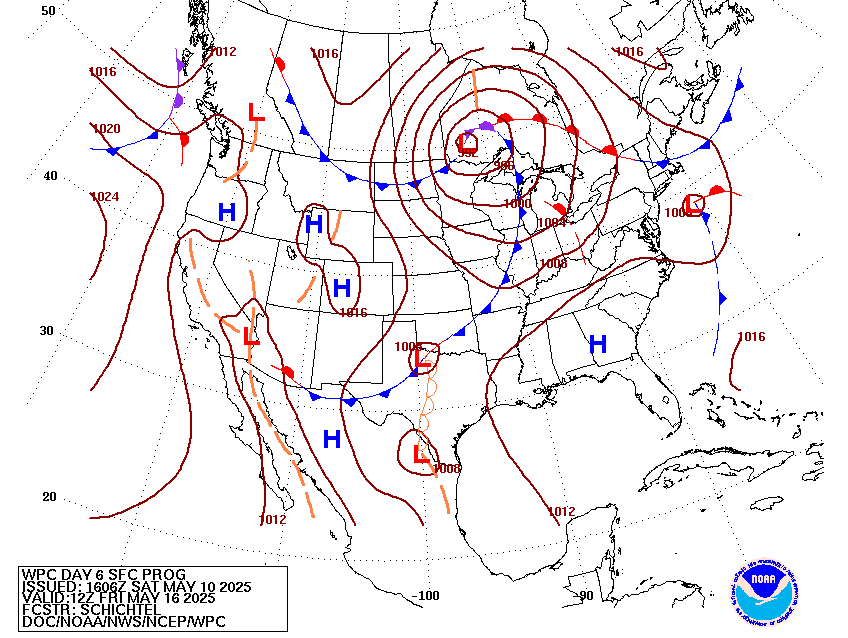 This surface map is valid early Wednesday morning after a cold front moves through (Weather Predictions Center [WPC]). This cold front will be followed by a high pressure system and below normal temperatures.
May Temperature and Precipitation Outlook
As I mentioned before it looks like May will start out slightly below normal. From a new release of the monthly climate prediction from the Climate Prediction Center (CPC), they are predicting around normal temperatures and slightly above average precipitation for the month.
The temperature outlook for the month of May shows near normal temperature for the month of May in Memphis. (NOAA/CPC)
The precipitation outlook for the month of May shows slightly above normal precipitation in Memphis. (NOAA/CPC)
Max Magness
MWN Meteorologist Intern
----
Follow MWN on
Facebook
and
Twitter
for routine updates and the latest info!
Complete MWN Forecast:
MemphisWeather.net
on the mobile web or via the
MWN mobile app
Download our
iPhone or Android apps
, featuring
StormWatch+
severe weather alerts!
| | |
| --- | --- |
| | |
| MWN is a NOAA Weather Ready Nation Ambassador | Meteorologist Erik Proseus is an NWA Digital Seal Holder |