Over the past week we saw rain four out of the last seven days. Today (Tuesday) we got into the mid 60s after rain cleared out for some afternoon sun. Unfortunately, it looks like that trend of rain and storms will continue for the next week. We are watching potential severe weather with a passing of a cold front Thursday and into Friday. More rain could occur at the start of next week (Sunday, Monday, and Tuesday).
This is a picture of a severe thunderstorm in Mountainair, New Mexico. This thunderstorm produced a small tornado about 30 minutes prior, before becoming more linear in nature. This linear nature lead to some wind reports.

Wednesday
As clouds move in during the overnight hours tonight, temperatures will probably stay relatively steady and only drop to the mid 50s. During the day we will top out in the mid to upper 70s, with a chance of a few showers and storms. This chance of showers and storms is due to some instability which should be present in the atmosphere, as well as warm temperatures due to the metro being in the "warm sector" with a warm front lifting well to our north. Going into Wednesday night, rain chances will stay relatively steady, and the same goes for Thursday morning. Temperatures will only drop to the mid 60s overnight.
Thursday and Friday
Thursday will likely top out in the upper 70s ahead of an approaching cold front - spring-like temperatures as the solstice occurs late Thursday evening (10:49pm to be exact)! As it moves towards us the chance for rain and storms increases. Storms in our area could be strong to severe as the Storm Prediction Center (SPC) has put Memphis in a Slight Risk (level 2 of 5) for severe storms. This event looks like it will occur late Thursday afternoon/night, so make sure you have multiple ways of getting warning information! As of right now the storms look more linear in nature meaning the main concern will likely be high wind gusts. Thursday night into Friday temps will stay steady and only drop to the mid 60s, with the Friday daytime high expected to reach around 70 before possibly falling some in the afternoon behind the cold front. Much of the day Friday looks to remain dry and Friday night temperatures will quickly drop.
The Weather Predictions Center (WPC) highlights the chance for severe weather with the expected cold front passage.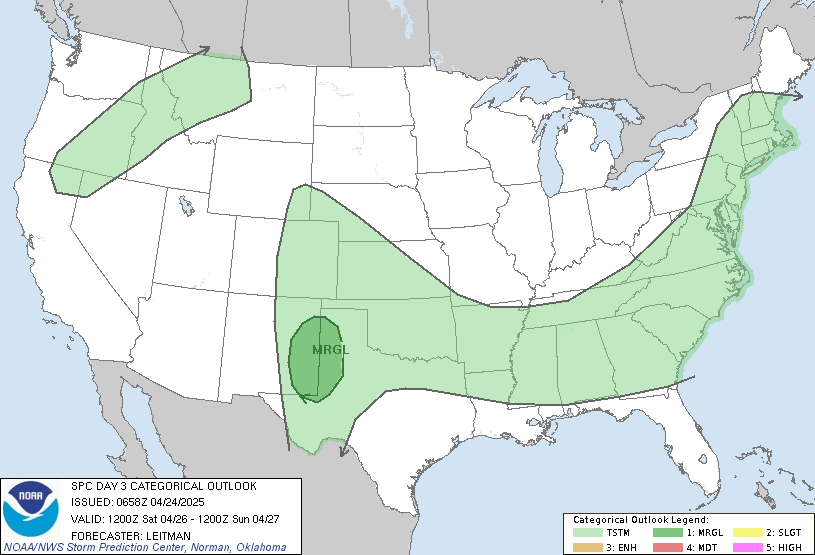 Per the SPC, Memphis is near the eastern edge of a Slight Risk for severe storms on Thursday.
Saturday and Sunday
Early Saturday morning lows will likely drop all the way down to around 40 due to the passage of the cold front. This will make Saturday rather chilly with highs in the low 50s. This trend will continue into Sunday as Sunday morning lows are expected to get down to around 40 as well. There also looks to be a slight rain/shower chance on Sunday as highs only get into the low 50s. Sunday night low temps will drop to the mid 40s.
Monday and Tuesday

Monday looks like it'll be mostly cloudy with a chance of showers as temperatures top out into the lower 60s. Monday night won't get too cold because of the expected cloud cover. This means temperatures will only drop to the lows 50s. Tuesday temps will top out in the upper 60s with a chance of rain or thunderstorms as southerly wind returns, helping temperatures to warm despite the cloud cover.
Relation of Temperature and Cloud Cover
The reason thick clouds keep temperatures warmer during the night is due to the clouds having the ability to keep the Earth's emitted longwave energy in the lower atmosphere. The result is warmer temps than if there were no clouds. This is different when we're talking about daytime highs. If there is a thick cloud deck, temperatures will not get warm as if there were no clouds because those clouds keep the incoming radiation from the sun out. This incoming radiation is called incoming shortwave radiation.
This is a graphic showing what was explained just above. It shows hows clouds can modify daily temperature maximums and minimums.
A Look at Week Two
The Climate Prediction Center (CPC) is expecting March 25th-March 31st to feature above average temperatures and slightly above normal precipitation. I know this is frustrating for some because we have sat above average in the temperature department for most of the winter. This trend looks like it'll continue into early spring. It also looks like the wet trend will stay with us as it has most of this winter.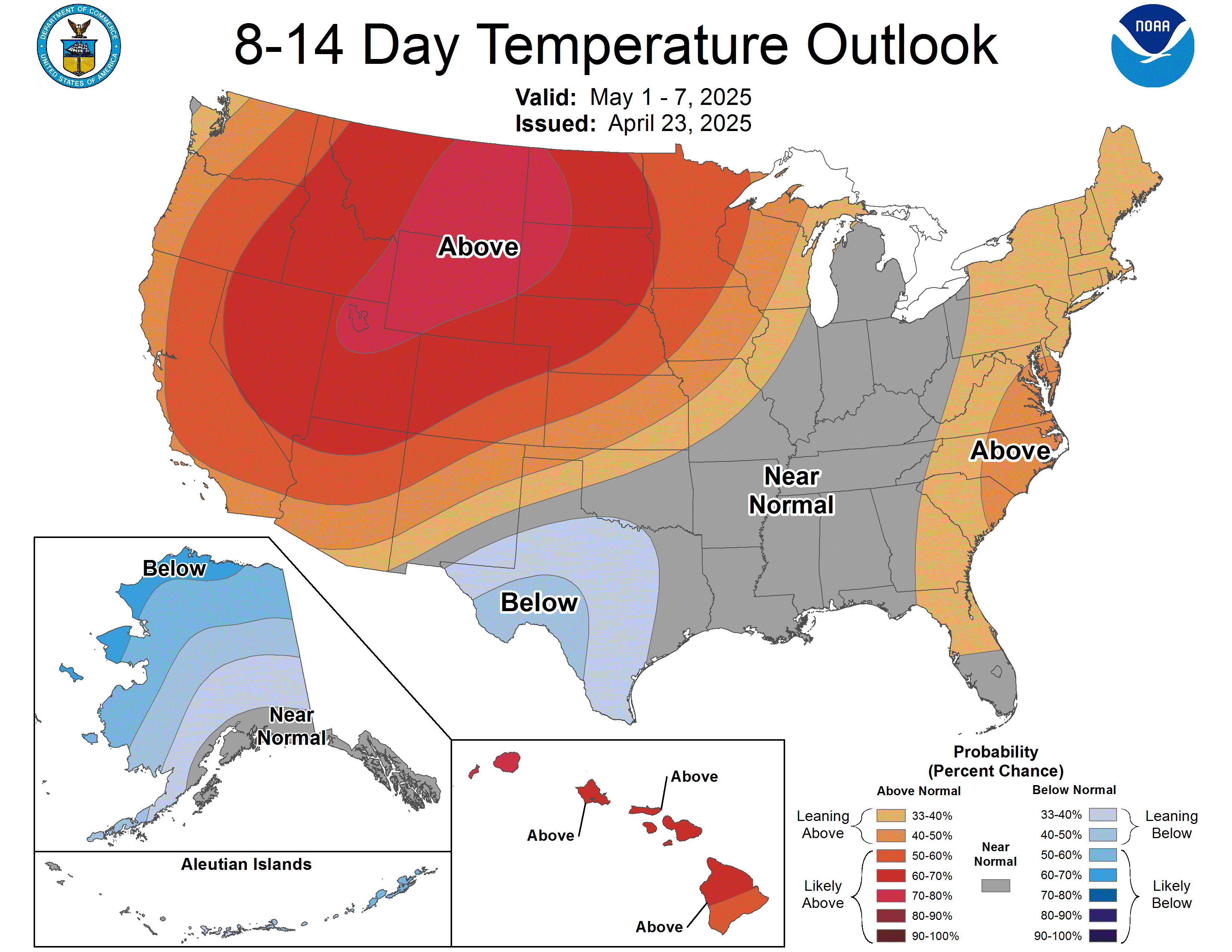 From the CPC: it looks like the week of March 25th to March 31st has a decent chance of having above average temperatures.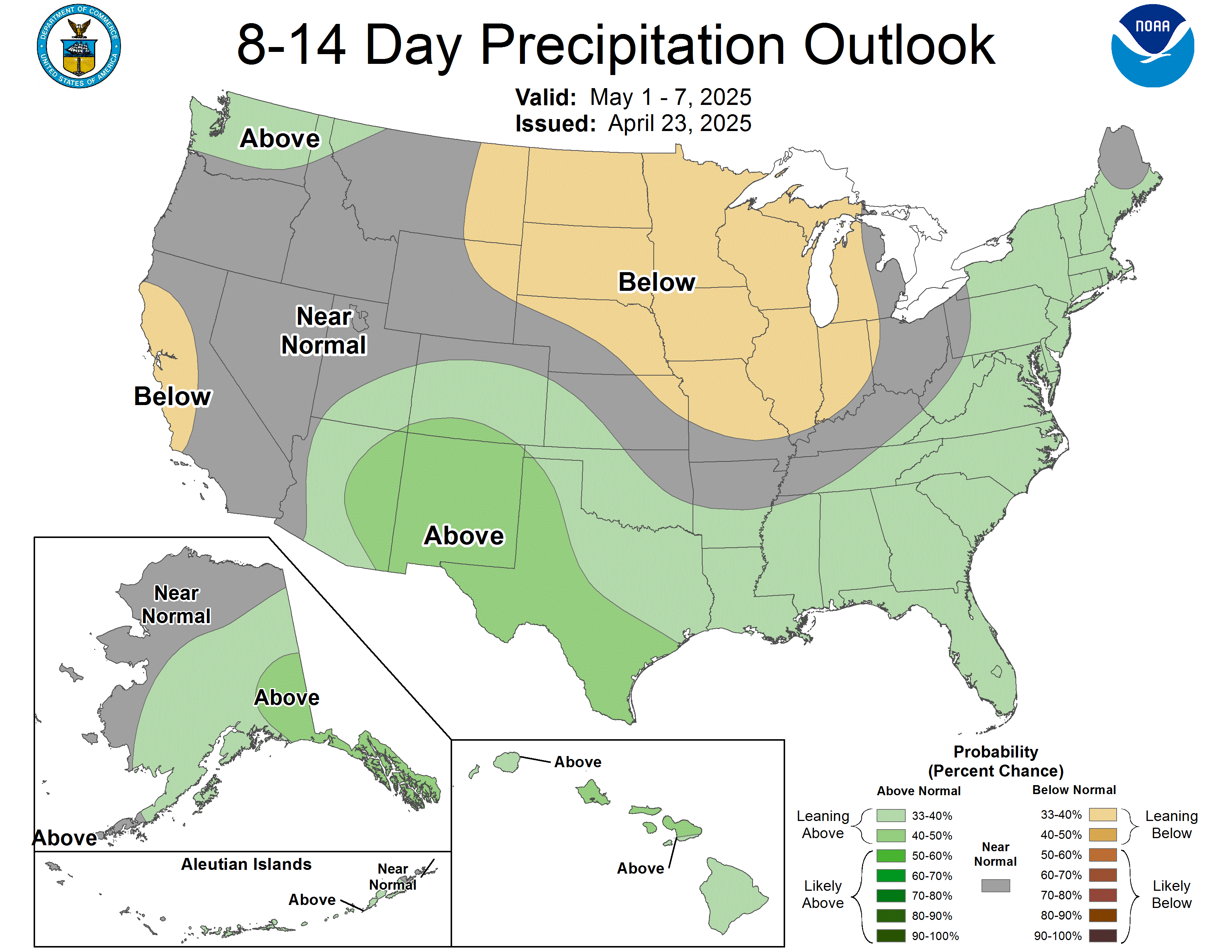 During the week of March 25th to March 31st, precipitation could also remain a bit above average. (CPC)
Max Magness
MWN Meteorologist Intern
----
Follow MWN on
Facebook
and
Twitter
for routine updates and the latest info!
Complete MWN Forecast:
MemphisWeather.net
on the mobile web or via the
MWN mobile app
Download our
iPhone or Android apps
, featuring
StormWatch+
severe weather alerts!
| | |
| --- | --- |
| | |
| MWN is a NOAA Weather Ready Nation Ambassador | Meteorologist Erik Proseus is an NWA Digital Seal Holder |