We experienced a wide variety of weather over the past week! Daily high temperatures varied from the low 80s to the upper 50s. We did see quite a bit of rain Sunday, from multiple rounds of rain and storms, particularly a lengthy period of heavy rain during the late morning and early afternoon hours. The total rain received on Sunday was 2.60". It didn't break the daily record, but the amount was well above average.
Thankfully we missed the worst of the storms as parts of Louisiana, Mississippi, Alabama, southeast Tennessee, Georgia, and North Carolina saw all types of severe weather. There have been a total of 651 storm reports received by the NWS. There was a truly devastating tornado in Southern Mississippi with the worst of the damage being in Bassfield, MS. This tornado has been given a preliminary rating of an EF-4 with maximum wind gusts of 170 mph! If you would like to look at the damage it caused, here is a link to
drone footage
.
These are the filtered storm reports from the SPC from 4/12/2020.
Tuesday Night
The clouds will move out making for a clear and cold night. Much of the Memphis metro is under a Frost Advisory as temperatures are expected to drop into the mid 30s. A Freeze Warning is in effect for Tipton and Fayette Counties, as those areas have the highest probability of temperatures dropping as low as 30 degrees. Bring in those tender plants or cover them up!
Wednesday
After a very cold early morning, we should be in store for a pleasant Wednesday. Temperatures are expected to rise to the low 60s with sunny skies. Winds during the day should be from the southwest at about 7 mph. Wednesday night into Thursday temperatures are expected to drop to around 40 under a clear sky. Some patchy frost is possible in rural areas.
The GFS model shows why temperatures are so cold right now. Anomalously low pressure aloft over much of the nation means cold polar air is in place at that level. Those blues, purples, and greens are showing that the pressure at 500mb (18,000') is much lower then normal. (WxBell)

Thursday and Friday
Thursday temperatures will top out around 70 under sunny skies. The breeze will be out of the south at about 10 mph. Overnight temperatures will drop to the upper 40s as some cloud cover moves in. On Friday, conditions should be partly sunny with temps in the lower 70s. There is also a slight chance of rain, but it shouldn't cause any real issues. Friday night temperatures will drop into the upper 40s with a slightly better chance of a rain shower.

Saturday and Sunday
Saturday temps will top out in the upper 60s under partly sunny skies. There also still a chance for a lingering shower. Saturday night the chance of rain will increase with scattered showers possible. Sunday will be pretty similar to Saturday. Sunday temperatures will top out around 70 under mostly cloudy skies. There is a continued chance of showers, though no washouts are currently forecast for the weekend. Sunday night lows will drop to around 50 with clouds clearing a little, making for a partly cloudy night.

Monday and Tuesday
The warming trend continues with Monday's highs in the low 70s under partly cloudy skies. Overnight temperatures will drop to the lower 50s. Tuesday temperature will top out in the mid 70s under partly sunny skies.
A Look at Next Week
Using the projections from the Climate Prediction Center (CPC) it looks like temperatures will probably be near normal and precipitation will probably slightly above normal. We'll be watching the mid-week period for our next round of storms.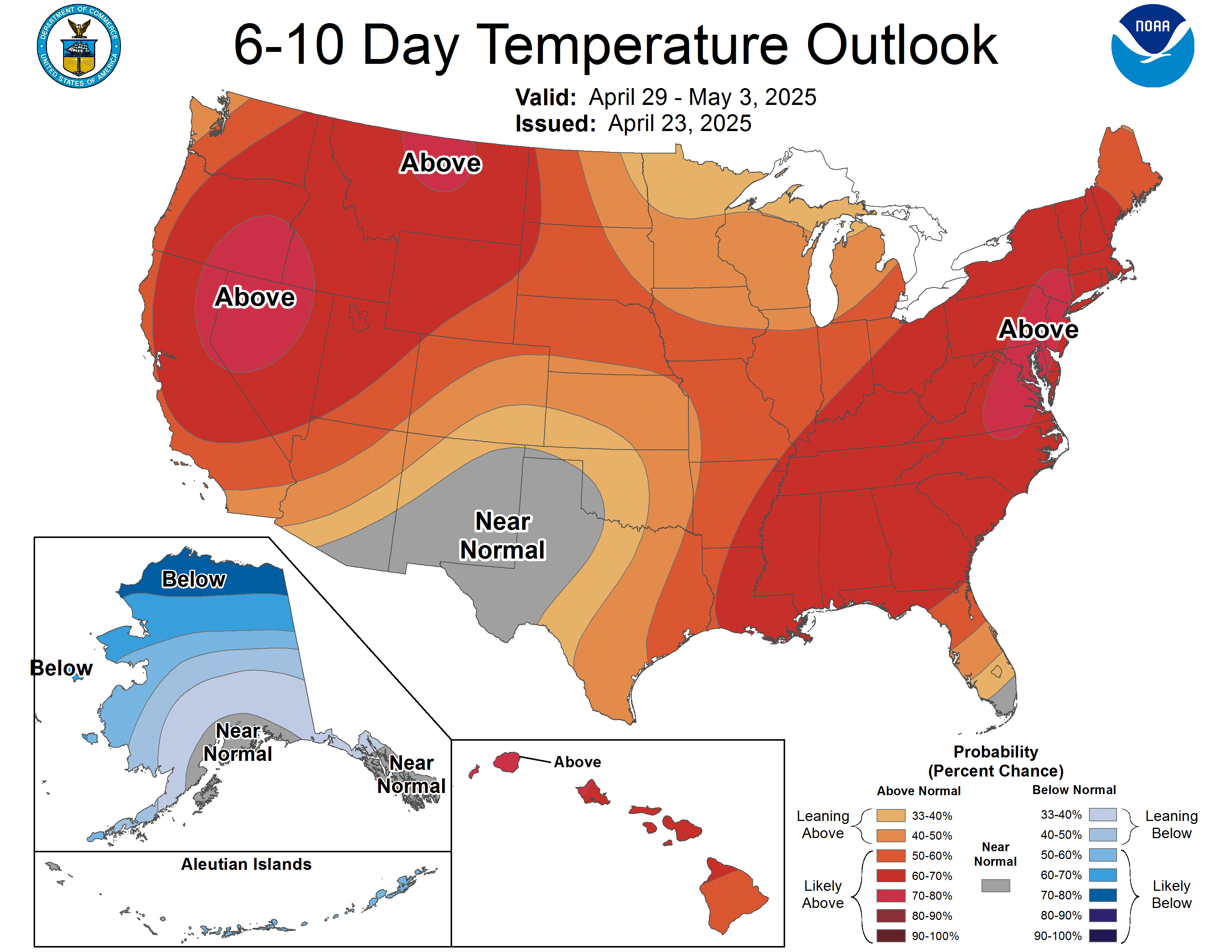 These are the probabilistic chances of temperatures being above or below normal across the United States (CPC).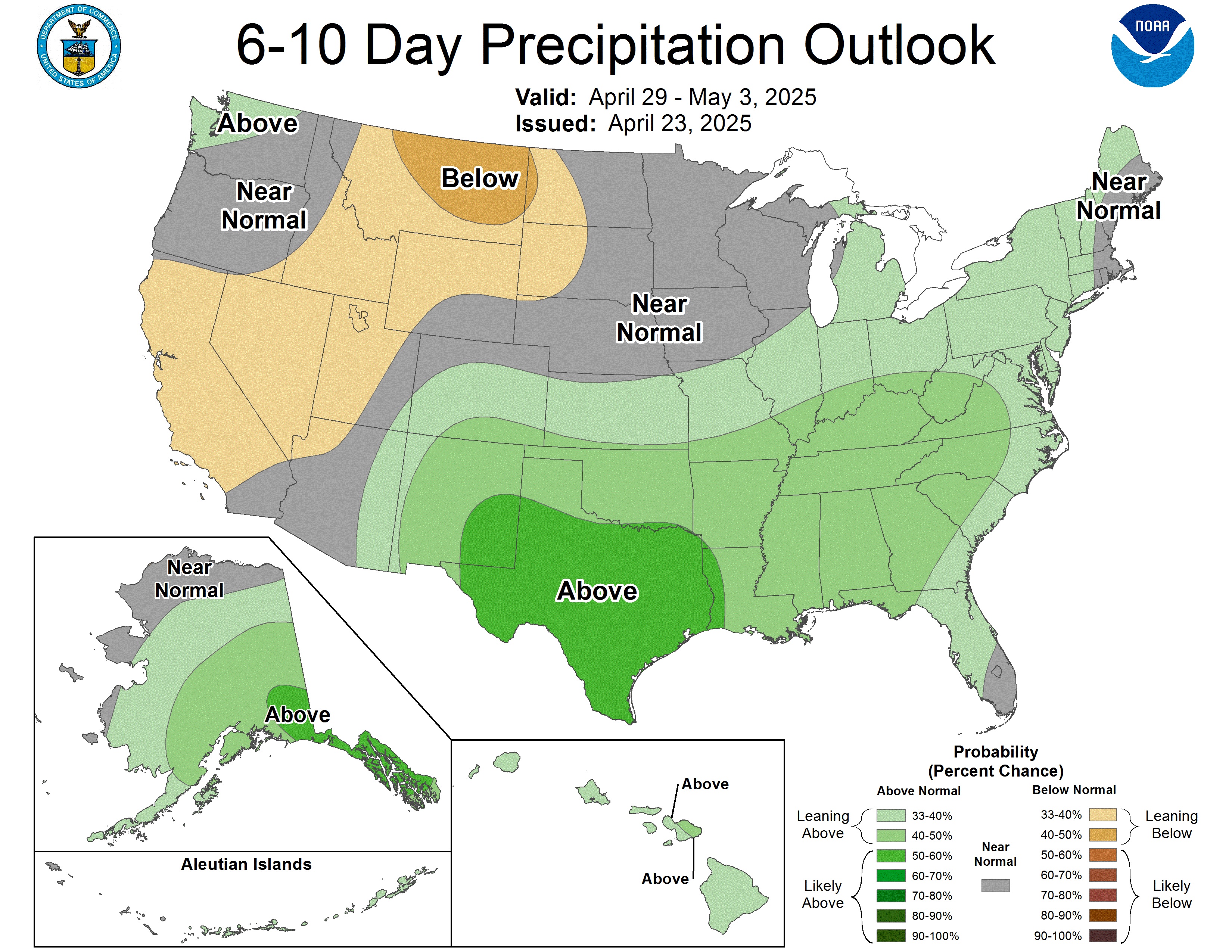 These are the probabilistic chances of precipitation being above or below normal across the United States (CPC).
Max Magness
MWN Meteorologist Intern
----
Follow MWN on
Facebook
and
Twitter
for routine updates and the latest info!
Complete MWN Forecast:
MemphisWeather.net
on the mobile web or via the
MWN mobile app
Download our
iPhone or Android apps
, featuring
StormWatch+
severe weather alerts!
| | |
| --- | --- |
| | |
| MWN is a NOAA Weather Ready Nation Ambassador | Meteorologist Erik Proseus is an NWA Digital Seal Holder |