We're coming around to Christmas week which means lots of parties, food and family. The last week wasn't too "active" but we did have rain and storms December 16th and some rain yesterday. For most of the past week temperatures sat around or above average with some cheering and others jeering.
Knowing it's Christmas week, I know many of you want to know whats going to happen this week. Good news is that from now until later this week we should see above average temperatures and little rain chance. That will change heading into the weekend but even then rain amounts aren't expected to be too much.
Christmas Eve, Christmas Day and Boxing Day (day after Christmas)
Tomorrow on Christmas Eve you can expect mostly sunny skies, highs in the mid 60s and no real chance of rain. Tomorrow night you can expect temperatures to only drop to the upper 40s. This is due to us expecting some high atmospheric clouds to move in called cirrus clouds. High clouds have been shown to keep some heat from radiating into space, therefore not allowing temperatures to get as low.
On Christmas Day we are again expecting some high atmospheric clouds with no rain chance and highs in the mid 60s. Wednesday night (Christmas Day night) clouds are expected to move in and keep overnight temperatures up. Overnight lows will only drop to the mid 50s. On Boxing Day it will most likely be partly sunny, with highs in the mid 60s and a very small chance of sprinkles. Overnight lows will only get down to the mid 50s due to cloud cover again capping the heat near the Earth's surface.
This is a bit of an exaggeration but temperatures will be unseasonably warm for this time of year around Christmas.

Friday, Saturday and Sunday
Friday will again be much of the same story as Thursday with partly sunny conditions, highs in the mid 60s and a slight chance of rain/showers. Friday night lows are only going to drop to the mid 50s due to cloud cover staying during those hours. Saturday is much of the same story with mostly cloudy conditions, a chance of rain/showers and highs in the mid 60s. Saturday night lows are only going to drop to around 50 with cloud cover overhead and a chance of rain. Sunday you can expect scattered showers and possible thunderstorms, with a high around 60.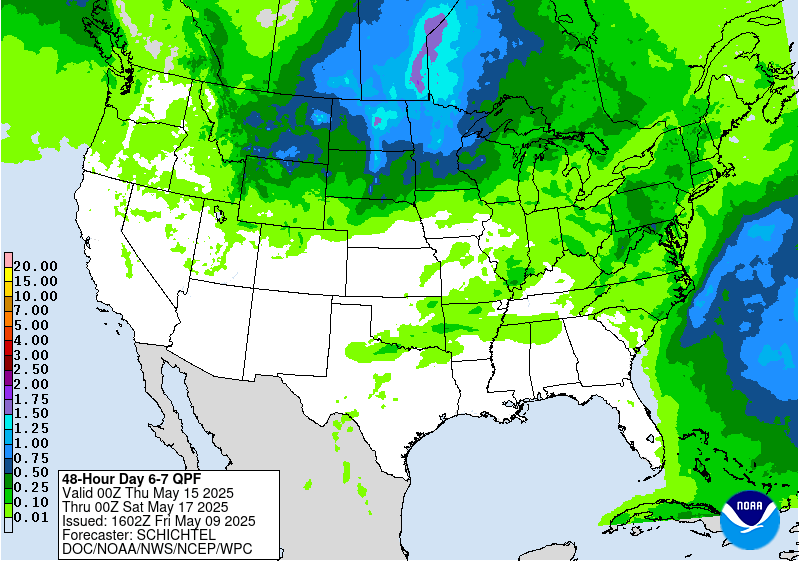 The Quantitative Precipitation forecast (QPF) for Saturday evening through Monday shows that rain totals will probably be around an inch. (NOAA/WPC)
Christmas Weather History
Snow and Memphis don't mix. Some of you may have seen the
Christmas Day Weather History Blog
posted December 21st. The modern record data for Memphis began in 1875 and only 11 times has a trace amount of snow or more fallen on Christmas Day.
Officially, the National Climatic Data Center considers a city to have a "White Christmas" if at least one inch of snowfall is on the ground on Christmas morning, no matter when that snowfall occurred. A "White Christmas" has only
occurred eight times since 1875. Last, our historical probability of a White Christmas in Memphis is a whopping 3%! As you can see we don't get very lucky when it comes to White Christmases in the Memphis area. If you wish to read more about the Christmas Weather history click the link
here
.
Will we cool down after New Years?
Some will moan and groan over this while others will cheer it on, but the Climate Prediction Center (CPC) is predicting above average temperatures and slightly below average precipitation for the week of December 31st to January 6th. We still could see a cool down the weekend after Christmas if the low pressure system bringing a passing cold front comes to fruition for the area.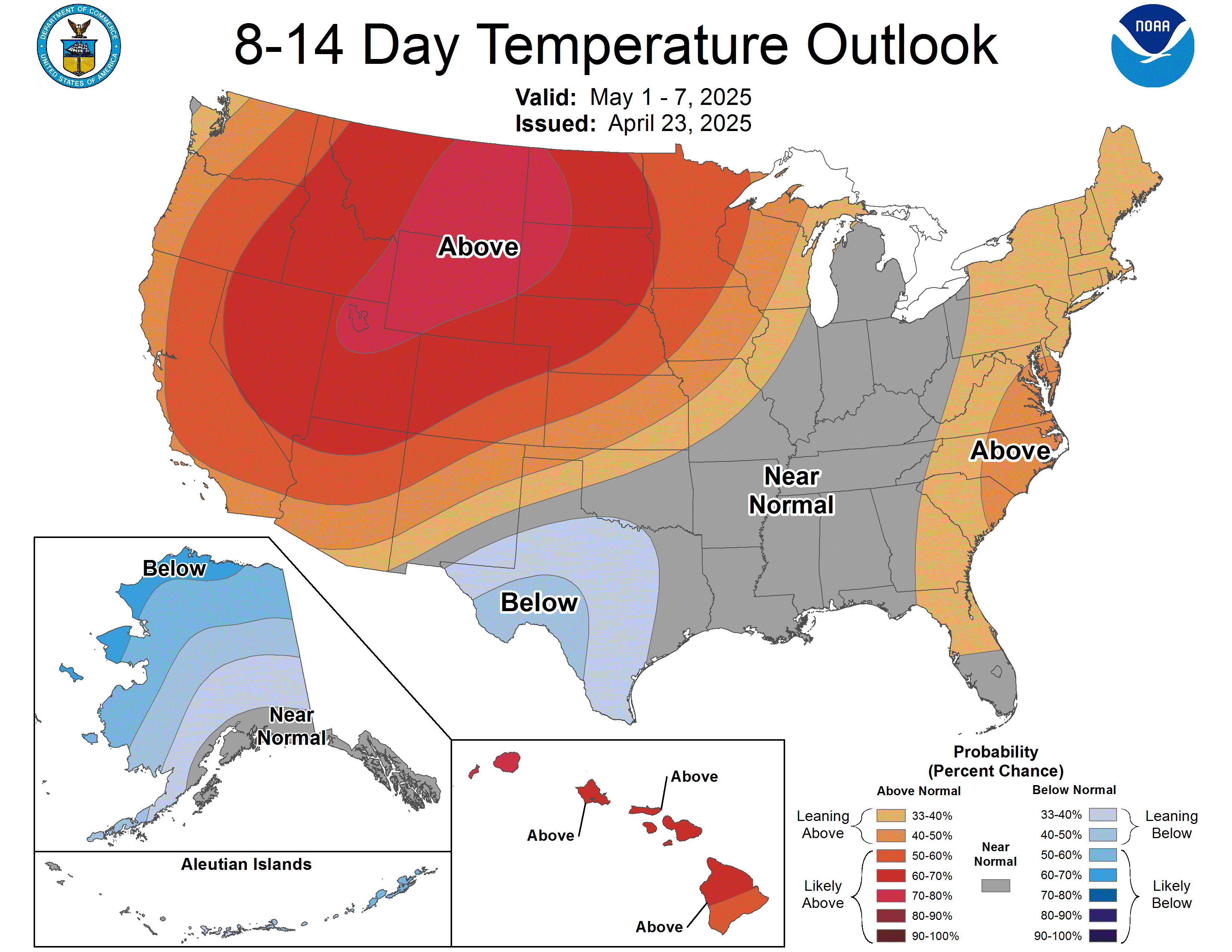 CPC temperature outlook for December 31st to January 6th.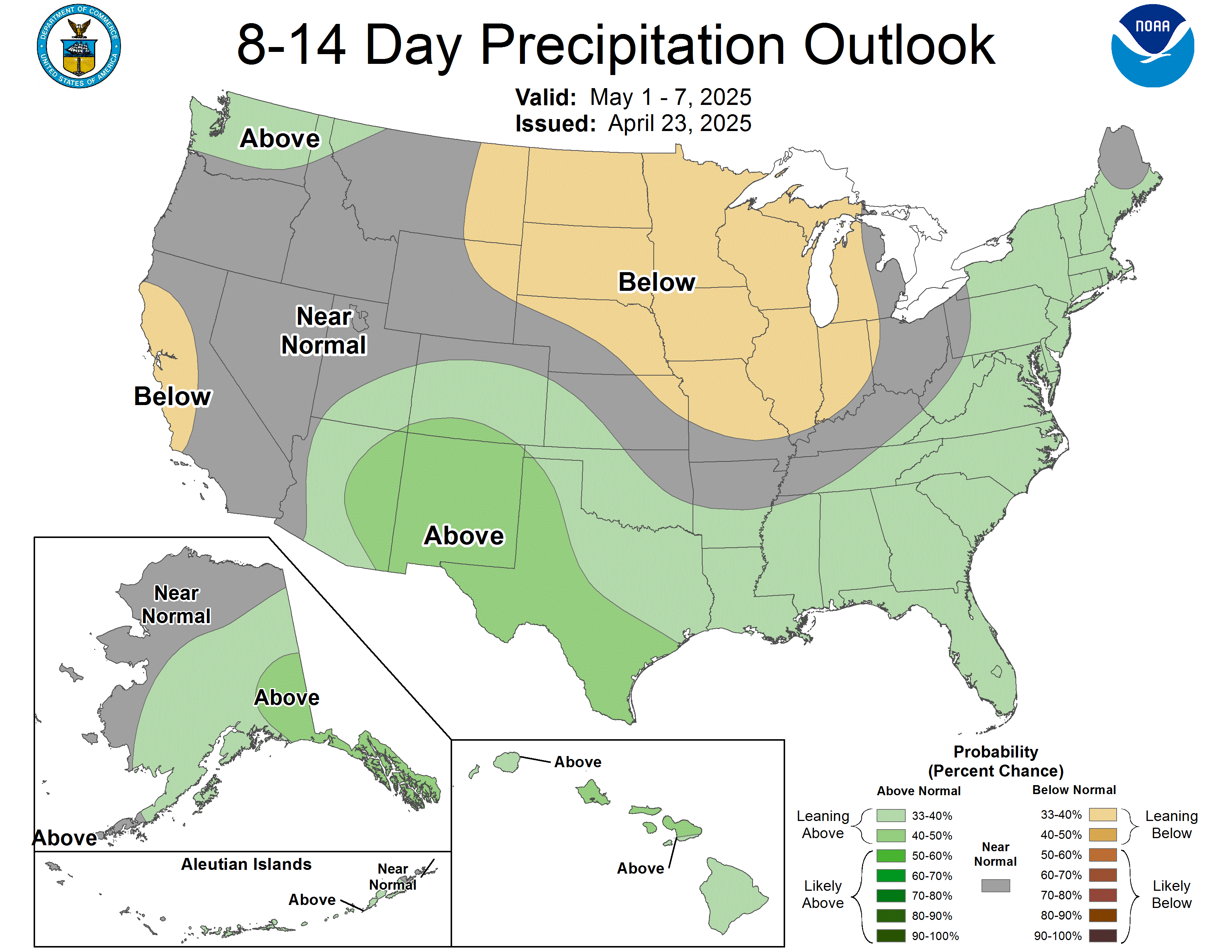 CPC precipitation outlook for December 31st to January 6th.
Cotton Bowl Forecast
As you likely know, the Memphis Tigers football team is chasing down one more win this weekend, this time in a New Year's 6 bowl game - the Cotton Bowl in Dallas, TX! Some of you might be headed that way after Christmas, so here's what to expect.
If you are driving to Dallas on Thursday, expect fall-like conditions with partly sunny skies and dry weather. Temperatures will mainly be in the 60s with a high Thursday afternoon in the Big D near 70 degrees! Friday will bring a chance of showers as the system approaching Memphis this weekend from the west moves closer to Dallas. Rain chances are in the 30-50% range Friday with warm temperatures - morning lows in the lower 50s and a high in the upper 60s.
For gameday, the good news is the AT&T Stadium has a dome! I expect dry conditions and lower 70s inside, but wet conditions out! There's a high likelihood of rain and perhaps a few Texas thunderstorms. Temperatures will peak in the mid 60s after morning tailgate temps in the mid 50s. I also expect the Tigers to heat up the scoreboard and come out with the biggest win in school history!
For your drive home on Sunday, it should be mainly dry, but models diverge by this point so don't be surprised if you encounter some showers, particularly the closer you get to Memphis. Temperatures will be cooler, but mild. Expect Sunday morning lows in the Dallas to be in the mid 40s, with 50s along most of your drive.
Max Magness
MWN Meteorologist Intern
Erik Proseus
MWN Meteorologist
----
Follow MWN on
Facebook
and
Twitter
for routine updates and the latest info!
Complete MWN Forecast:
MemphisWeather.net
on the mobile web or via the
MWN mobile app
Download our
iPhone or Android apps
, featuring
StormWatch+
severe weather alerts!
| | |
| --- | --- |
| | |
| MWN is a NOAA Weather Ready Nation Ambassador | Meteorologist Erik Proseus is an NWA Digital Seal Holder |