Over the last week temperatures sat well above normal with rain Saturday into Tuesday. I know some you thought it was so not "Christmassy" for it to be 70 on Christmas Day, but at least there wasn't cold rain. This upcoming week should be rather pleasant with temperatures sitting around normal or just above. There will also be a low pressure system that will move through on Thursday, with the possibility of showers lingering until Saturday. Besides this low pressure system it should make for a bright New Year and new decade with quite nice conditions.
New Year's Eve, New Years Day and Thursday
Monday night we will drop all the way down to the mid 30s with clear conditions and a westerly wind. New Year's Eve should be pleasant with plenty of sun, a westerly breeze and highs right around 50 - not dissimilar to the conditions we had today. For those attending the Liberty Bowl between the Navy Midshipmen and Kansas State Wildcats, the temperature at kickoff will be around 50 and drop to the low 40s when the game finishes between 7:00pm and 8:00pm. A westerly breeze will make it feel a bit cooler. Overnight lows heading into New Year's Day will drop to the mid 30s with mostly clear skies.


New Year's Day will be another pleasant one with highs expected in the mid 50s, a partly sunny sky, and southerly winds. Overnight heading into Thursday, the low will drop to the mid 40s with rain becoming more likely after midnight. A low pressure system will bring rain primarily affecting Thursday's activities. Thursday will top out in the mid 50s with rain throughout the day. Thursday night heading into Friday lows will remain near 50 degrees due to cloud cover and possible lingering showers.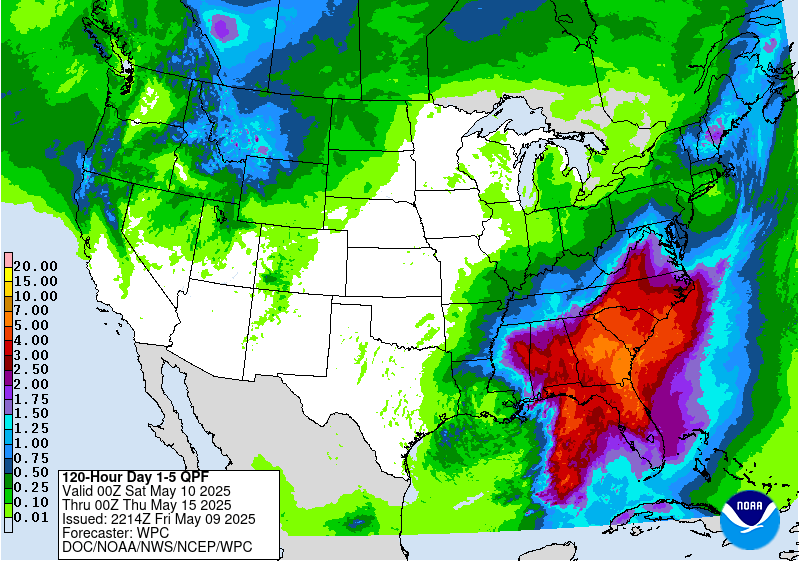 From the Weather Prediction Center, this is the Quantitative Precipitation Forecast (QPF, or total rainfall) through Saturday afternoon, January 5th. The QPF expected for the Memphis area could be near an inch.

Friday, Saturday, Sunday, and Monday
Friday should get into the mid 50s with a chance of showers lingering behind the departing low pressure system. Friday night into Saturday lows will probably drop all the way down to the mid 30s with a chance of rain continuing. Saturday will only top out in the low 40s with a slight chance of cold rain. It'll likely be the coldest day of the forecast period. Saturday night into Sunday will drop close to 30 with clearing conditions. Sunday will be clear and sunny with a high back around 50. Sunday night lows should drop to the mid 30s with relatively clear conditions. Monday will be a pleasant day with mostly sunny skies and a high near 50.


Looking ahead to the second week of 2020
Looking at the Climate Prediction Center's (CPC) temperature and precipitation outlook, Memphis could have slightly above average temperatures and above average precipitation.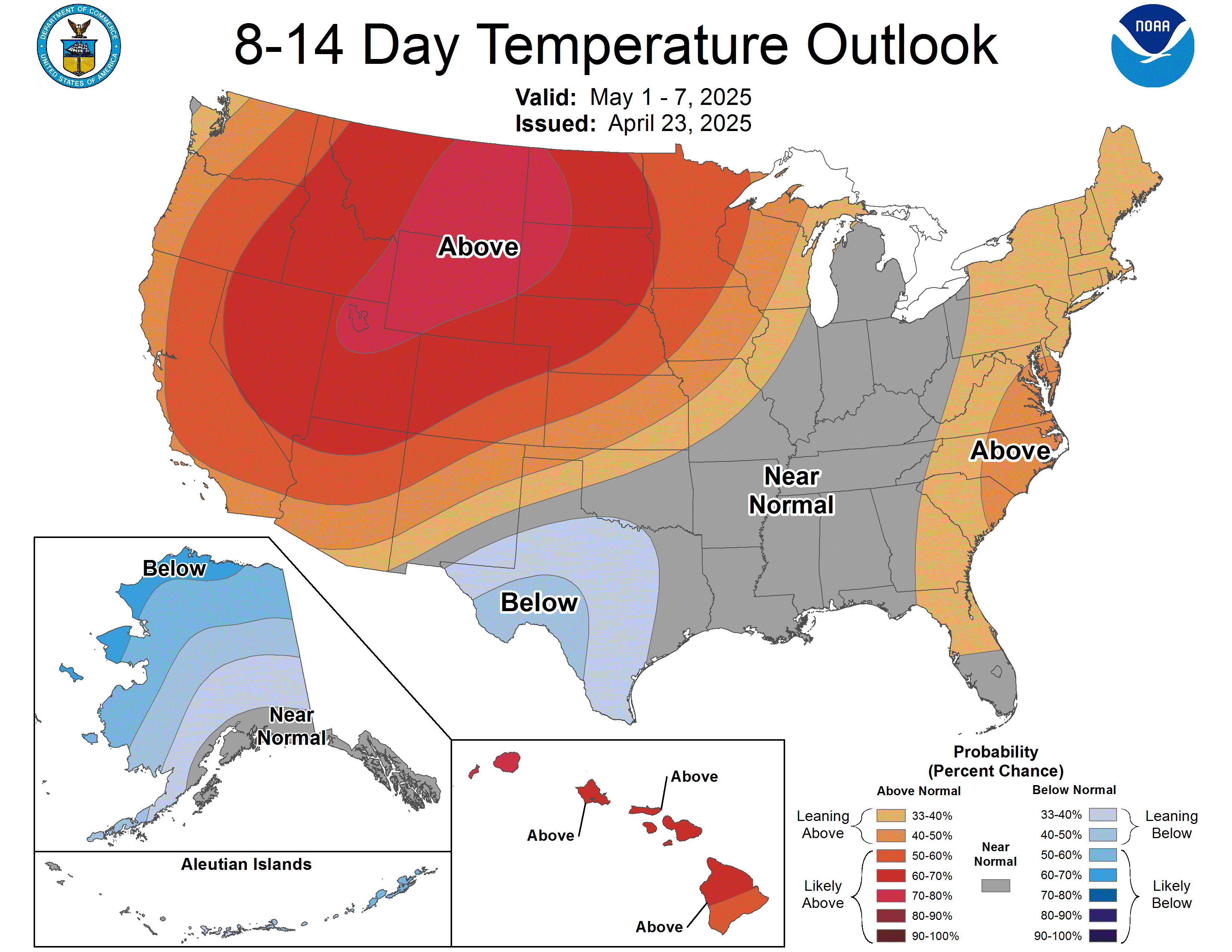 From the CPC, this is the 8-14 day temperature outlook showing enhanced odds of above average temperatures across the south-central U.S.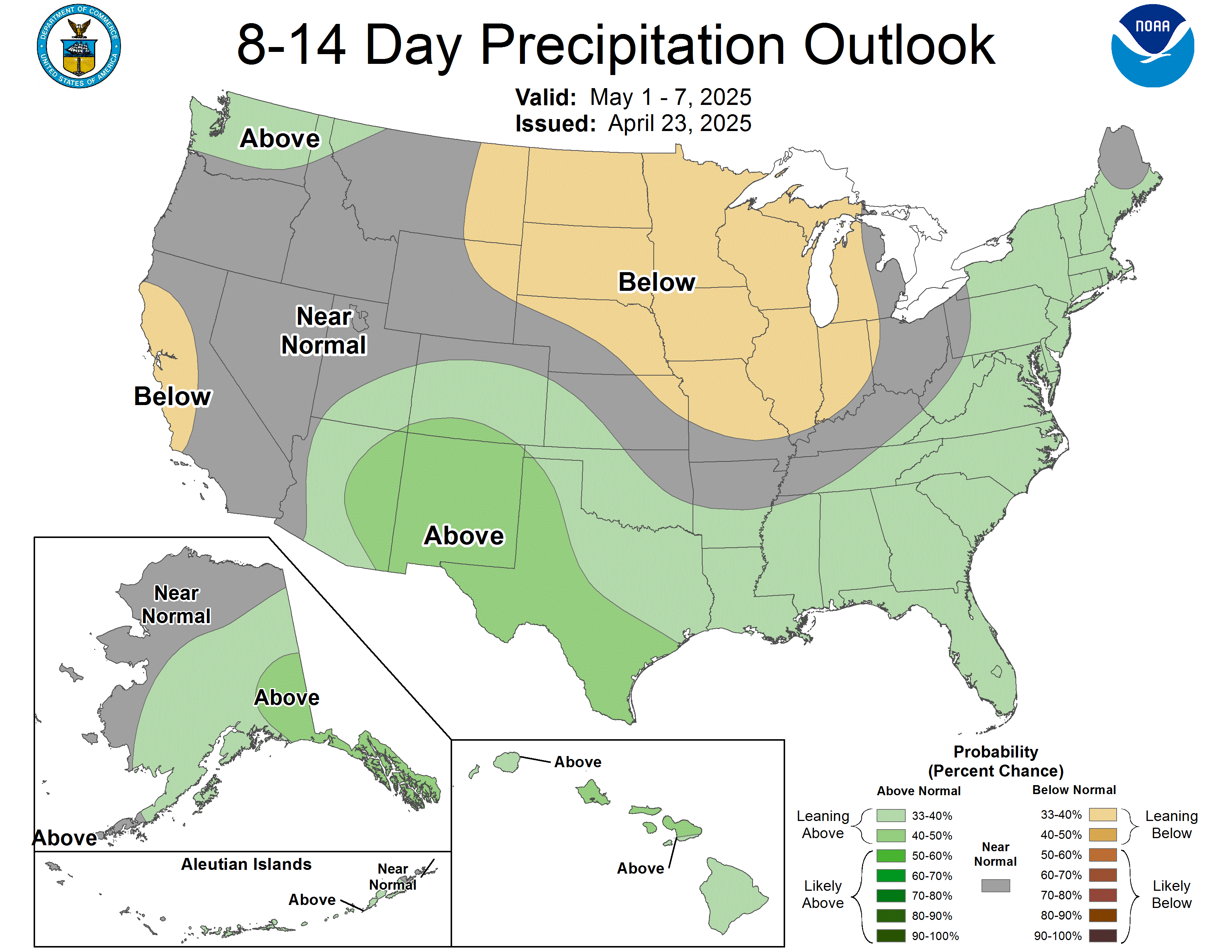 The week 2 precipitation outlook indicates above average precipitation is likely for the Ohio Valley into the Mid-South. (CPC)
Max Magness
MWN Meteorologist Intern
----
Follow MWN on
Facebook
and
Twitter
for routine updates and the latest info!
Complete MWN Forecast:
MemphisWeather.net
on the mobile web or via the
MWN mobile app
Download our
iPhone or Android apps
, featuring
StormWatch+
severe weather alerts!
| | |
| --- | --- |
| | |
| MWN is a NOAA Weather Ready Nation Ambassador | Meteorologist Erik Proseus is an NWA Digital Seal Holder |